Parent Series and Informational Nights
Parents and guardians are invited to the 2023-24 Parent Series and Informational Nights hosted by SVUSD and community partners. Expert speakers will cover relevant topics for parenting children of all ages. These informational nights will be held throughout the school year and cover social media, internet safety, mental well-being, deregulation & co-regulation, and much more. Please see the descriptions of our FALL 2023 series below. These parent trainings are of no cost to you and are intended to be parent-only unless otherwise stated.
Registration required.
ONLINE SAFETY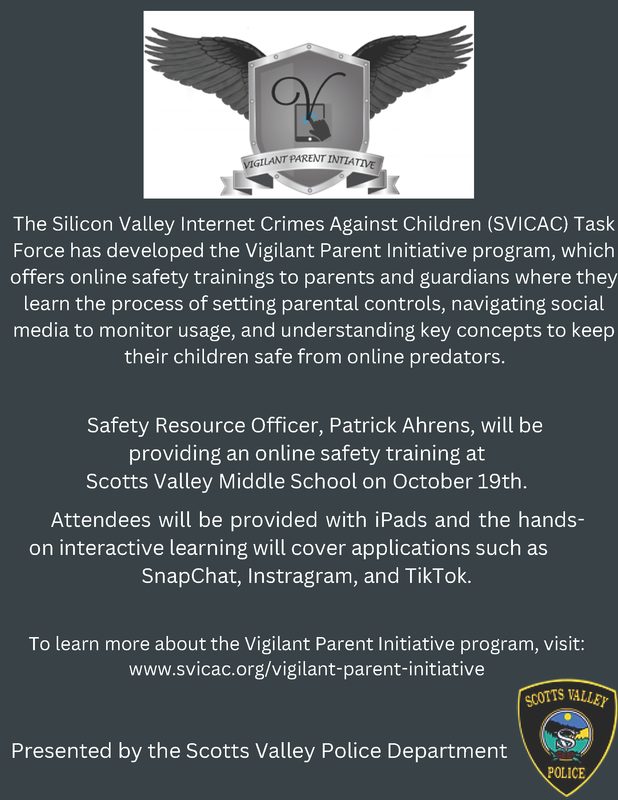 On October 19th, SVUSD's School Resource Officer Detective Ahrens will lead a parent-only hands-on training using the Vigilant Parent Initiative. iPads will be distributed to the class so parents can learn about parental controls, navigating social media to monitor usage, and understanding key concepts to keep their children safe from online predators. This is a must-class for any parents with children accessing the internet. Please join us at 6:00 p.m. at Scotts Valley Middle School. Childcare will be provided on-site. Please RSVP HERE for Childcare.

Mental Health First Aid Certification is a course that teaches you how to identify, understand, and respond to signs of mental illnesses and substance use disorders. The training gives you the skills to reach out and provide initial help and support to someone who may be developing a mental health or substance use problem or experiencing a crisis. Individuals (18 years or older) who complete the course will be Mental Health First Aid certified; however, this course is a 6.5-hour long course, and individuals must attend the entire session to be completely certified.
Individuals trained in the program:
1. Increase their knowledge of signs, symptoms, and risk factors of mental health and substance use challenges.
2. Can identify multiple types of professional and self-help resources for individuals with a mental health or substance use challenge.
3. Show reduced stigma and increased empathy toward individuals with mental health challenges.
4. Increase their confidence and likelihood to help an individual in distress.
5. Use the skills and information they learn in MHFA to manage their own mental well-being.
Saturday, November 4th, 8:30-3:00 at Scotts Valley Middle School. Because this class involves ordering curriculum and supplies (at no charge to you) and has limited seating, we must ask for RSVPs. Please reserve your seat on this Google Form.
More parent training opportunities will be offered throughout the winter and spring. Please stay tuned for more information on those upcoming nights.